Whitey
In Loving Memory
1979 --- June 24, 1998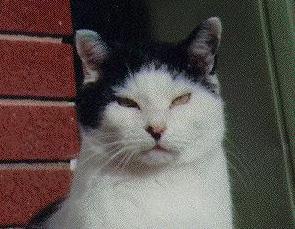 ". . . Grieve not, nor speak of me with tears, but laugh and talk of me as if I were beside you . . . I loved you so- 'twas Heaven here with you."
Isla Paschal Richardson



Whitey died June 24, 1998 at about 8:18 a.m. CST after a long and loving life. He apparently began life as a stray, roaming up and down Vine Street between the Cincinnati Zoo and The University of Cincinnati. He appear on our doorstep one day the winter of 1984, with a broken leg and a piece of his face hanging lose. We took him to the Vet who said he could do something for him. He was adopted and quickly took to the life of leisure as a retired "Tom". He moved with his new owners to Smithfield, Utah where he spent five and a half years. Then he moved to Rio Rancho, New Mexico where he enjoyed four and half years. Then about eight months ago he moved to Lombard, Illinois where he finished his life as a loving kitty.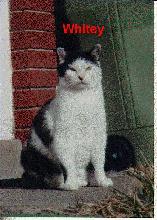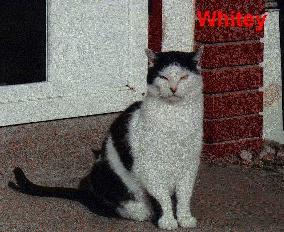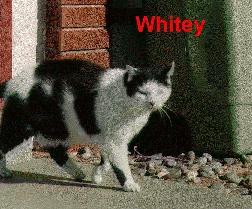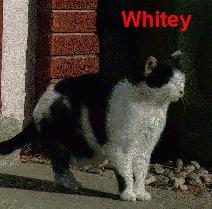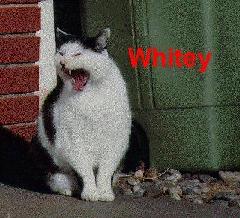 ---
In Loving Memory of Junior (June 21, 1998)
In Loving Memory of Frannie (Nov. 23, 1994)
In Loving Memory of The Owl (May 20, 1994)
In Loving Memory of Miss Kitty (March 25, 1993)
---

Local time is [an error occurred while processing this directive] Wednesday, 26-Jun-2019 08:16:17 EDT
This page was created on June 26, 1998.
This page has been visited [an error occurred while processing this directive] times.
This page was last changed on Monday, 24-Aug-1998 21:39:42 EDT
You came from (none)
You are on (none)
You are using CCBot/2.0 (https://commoncrawl.org/faq/)